Why Sitz Bath Shower Soak-Care Garments and Wrap-On Briefs?
The word sitz derives from the German word "sitzen," which means "to sit."
Until now the only way to perform a sitz bath was in the bathtub or on a plastic sitz bath bowl that rests on the toilet.
A Sitz bath is a method whereby a man or woman SOAKS their lower pelvic or perineum area with warm water or a mixture of warm water/Epsom Salt/Essential oils to relieve pain. Taking a Sitz bath temporarily relieves discomfort for many perineum related issues by relaxing muscles and increasing blood flow. For men it can help prostate related issues such as Prostatitis, Epididymitis and BHP, Urinary tract infections, hemorrhoids, and other genital/rectal pain. For women it can relieve menstrual cramps, itching, postpartum aches and pains, hemorrhoids, and other genital/rectal related aches and pains. A Sitz bath can also be used for daily hygiene both men and women.
Here are links the Mayo Clinic and WebMD regarding Sitz Baths.
https://www.mayoclinic.org/search/search-results?q=sitz%20bath
What are Sitz Bath Garments?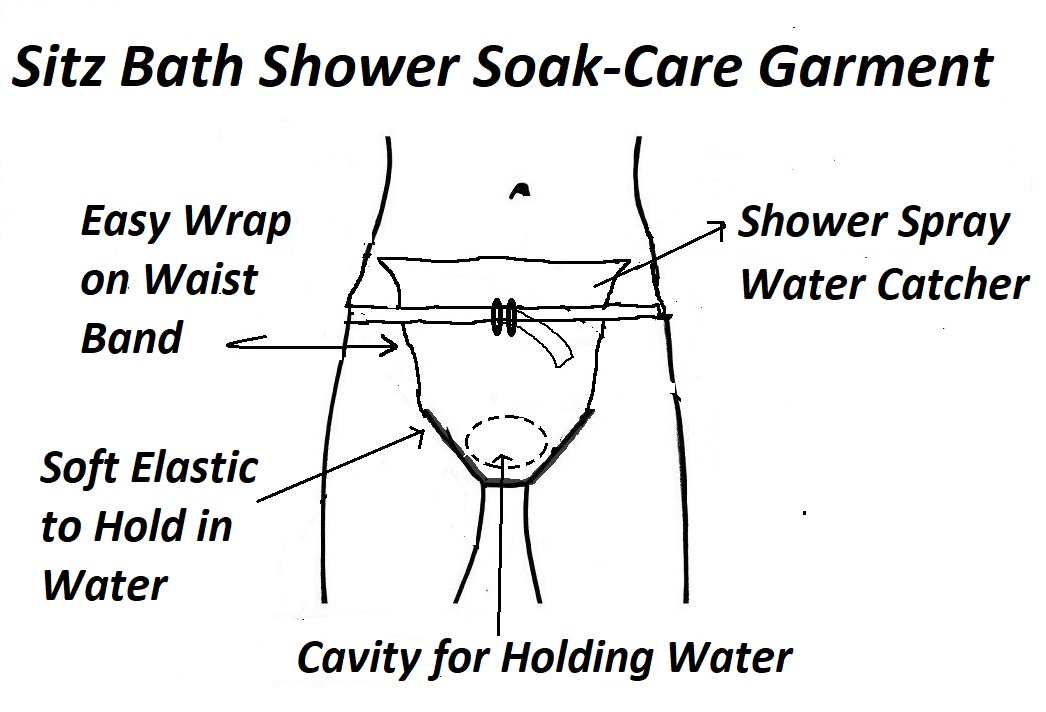 SITZ BATH SHOWER SOAK-CARE GARMENTS ARE
EASILY WRAPPED ON IN THE SHOWER AND OFFERS A CONTINOUS WARM WATER SOAKING WHILE YOU PERFORM YOUR SHOWER ROUTINE.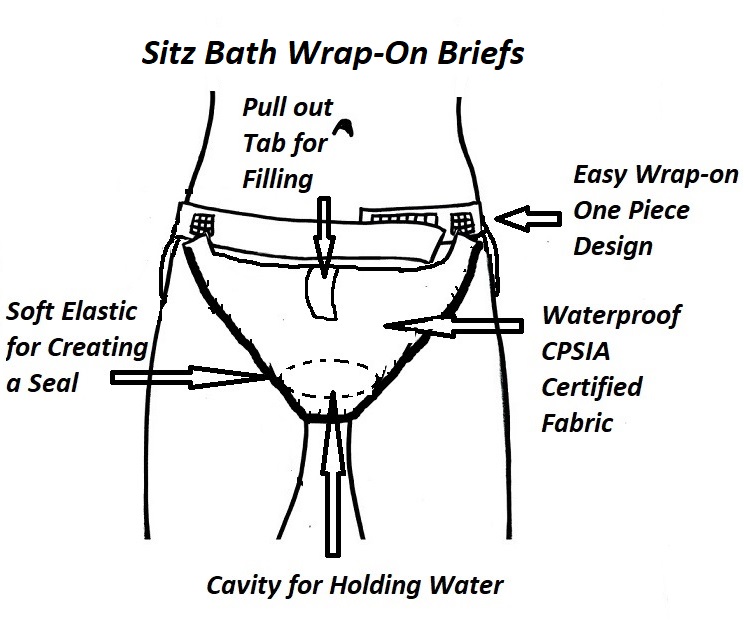 Sitz Bath Wrap-On Briefs can be worn without lifting legs and should only be worn in the shower, on the toilet, or on a bath chair in the tub/shower.
Sitz Bath Shower Soak-Care Garments and Wrap-On Briefs are wearable soaking garments made from CPSIA certified fabric (65% polyester and 35% polyurethane) in order to hold water against the skin. (CPSIA stands for the Consumer Product Safety Improvement Act), regulations that are intended to make products for children under age 12 safer by requiring manufacturers and importers to show that these products do not have harmful levels of lead and phthalates.) Other materials include elastic and hook/loop material for comfortably securing the leg flaps and Waist bands. Briefs are made for comfort and easy use in the bathroom only.
They are intended to soak the perineum area of the lower pelvic region only. Genitals, Anus, and Rectum.
Sitz Bath Shower Soak-Care Garments and Wrap-On Briefs can be used in the shower for a continuous warm water soaking.
Wrap-On Briefs can also be used on the toilet or on a Bath Chair. For Hemorrhoids the sitz bath bowl may be a better choice.
 (Important note: These garments are intended for Bathroom use only. Garments are not leak proof. If using outside the shower/toilet/or tub, place a bath towel on the floor. Epsom salt and/or essential oils can be added to water if desired.
WARNING: Do not put on or take off Wrap-on Briefs in a slippery shower/tub. 
---